Pierre Francois Massyn (BA Hons Communication Science, UOFS, South Africa, cum laude 1977) is a retired journalist and independent writer.
He was the first journalist to interview Nobel Laureate FW de Klerk for his maiden TV appearance (SABC, October 1979). As a TV news bulletin writer, he broke the news to millions of South African views about the IRA assassination of Lord Mountbatten on his yacht in 1979.
He devotes his time to environmental matters, particularly water treatment without the use of chemicals. He also campaigned successfully for the legalization of tortoise warning boards on national roads by the South African government.
Working for Rössing Uranium, the author organised Namibia's first National Quiz for High Schools, based on a Rössing publication, History Makers. He also acted as Master of Ceremonies at Namibia's first Young Scientists Exhibition and Prize-giving Ceremony.
An avid amateur historian, Massyn is a former member of the South African War Graves Commission and a founder member of the Doornkloof Society, which concerns itself with Jan Smuts' legacy.
In 2006, he was given a special award for services to the community of the Cape Agulhas Municipality, of which he was a Ward Committee Member for the town of L'Agulhas for two years.
In his spare time, Massyn travels and sails. In 1986, he executed a two months', double-handed Atlantic crossing in a 36 foot Albert Behrens design yacht. That same year he lived for nearly four months in the Amazones. He climbed Kilimanjaro and has a 42 foot ketch which he sailed from France to the Greek island of Lesvos. (Footnote 1). During 1987, he and his wife, Tisha lived on a yacht at the Greek island of Skiathos for six months. In 2002 they bought and restored an ancient house in the southwest of France.
The couple live in Suiderstrand, South Africa.
FOOTNOTE
1. Waterblommetjie is in all likelihood the only yacht ever to bear an Afrikaans name and a French flag.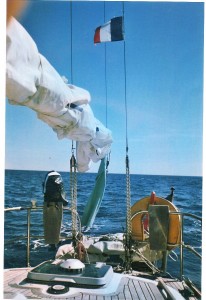 Corsica is out there somewhere…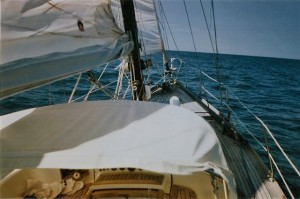 Crossing the Gulf of Lyon. St.Tropes lies about 85 nautical miles abaft off the starboard quarter.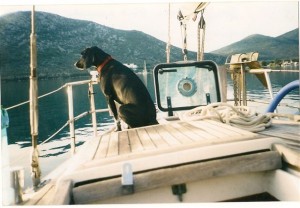 Keeping a lone vigil is the four-legged captain-of-the watch…Sofia is the proud owner of a Greek passport. She has traveled extensively by sea, air and land and has lived in Lesvos and France but is currently based in South Africa. This citizen of the world went by train from Paris to Frankfort where she lodged in the Sheraton Hotel. Clearly only the best will do..