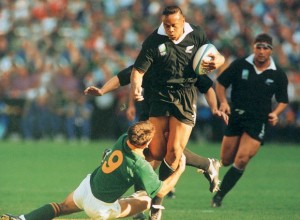 They were locked in battle in the 1995 Rugby World Cup Final.
They were arguably the greatest wing and the  greatest scrumhalf who ever lived.
Early in 2015, Jonah Lomu visited  the wheelchair-ridden  Joost van der Westhuizen at his home in Pretoria.  Although playing on opposing sides, the bond  and respect between the two men was obvious. This is the brotherhood  that sport in general, and rugby in particular, creates.
Jonah Lomu sadly died on Wednesday 18 November 2015. I will remember him not only as the greatest no 11 in history, but also as a great person and a humble human being.