The Springboks had their own battle cry. It was called Jamalayo.

John Smit (below) has been voted the top Springbok of all time by Sports Illustrated magazine. Dateline July 2011.
A drop goal hero (below) was so poor that as a school boy he had to sell koeksisters to support his family..!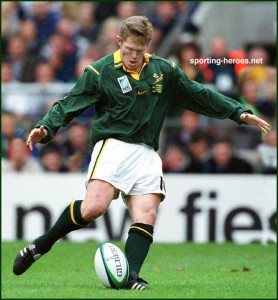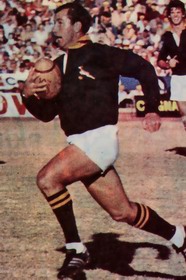 Three rugby Springboks also had Springbok colours for athetics.  They were Attie van Heerden, Jaco Reinach and Kerneels Cronje. Gysie Pienaar was no slouch, either.
A one-eyed terror was the scourge of the All Blacks in 1960. This fearsome Springbok chased Colin Meads  round the rucks. By his own admission Meads, one of the legends of the Game, deemed it safer never to mess with this rugby Boer. Find out who this toughie was in Springbok Rugby Quiz.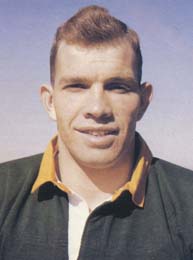 Hannes Marais (below) was one of the fastest props to ever play for South Africa. Doc Craven move him from flank to  prop at Stellenbosch. Here he clatters into an Ossie  on the 1971 tour. Under the new law the Ossie would have been sin-binned for a high tackle.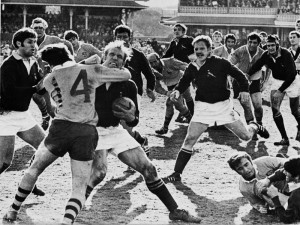 A certain Springbok forward was faster than most backs…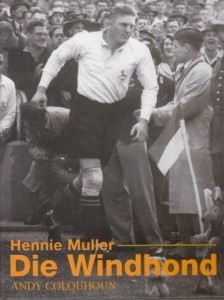 Referees do swing matches…..!  The inept Clive Norling robbed  the Springboks in the third test in 1981. All Black supporters blame Wayne Barnes for the loss against France in the 2007 RWC. Bryce Lawrence cost the Springboks the RWC Quarter Final in 2011.  Romain Poite (wrongly) redcarded Bismarck du Plessis in 2013 and the Springboks lost. There are more examples. Do referees  have too much power?
South Africa referee Craig Joubert had Scottish fans and this critic fuming after some dodgy decisions in the quarter final between Scotland and Australia  on Saturday 17 October 2015. A yellow card and a "penalty" caused the outcry. Disgraceful",  said Brave Heart  Gavin Hastings. Others described Joubert's refereeing as scandelous.   A day that will live in infamy.  Has Joubert now won himself Australian citizenship?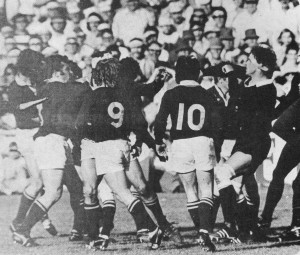 A famous Springbok survived a British concentration camp as a child. He became one of rugby's greatest players and rose to captain of South Africa. Read more about this remarkable man in Springbok Rugby  Quiz. He is seen here on the right below with Bennie Osler.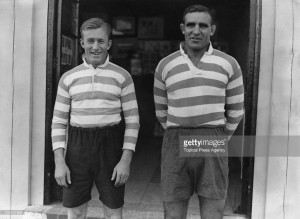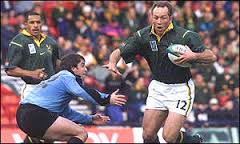 England no 8 Nick Easter's great grandfather Pietie le Roux played for the Springboks.  His full names were Petrus Abraham le Roux and he was born in  Paarl on 22 January 1885. He played three tests as a forward against  England, Ireland and Wales, in 1906. The player above is one of a number of medical doctors who played for the Springboks. Find out who the others were (or are!) in Springbok Rugby Quiz.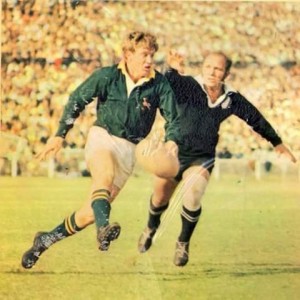 Piet Visagie was called "Die Mol van Ammosal". He had all the qualities of a world-class flyhalf. 
A Springbok strongman who demolished the All Black scrum in 1960  was called "Spiere" (Muscles).  Read more about this powerhouse prop in Springbok Rugby Quiz.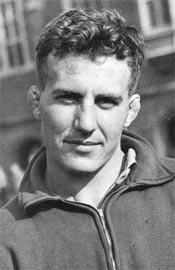 A flying Matie (below) helped the Boks to win the third and fourth tests against the Old Enemy in 1970.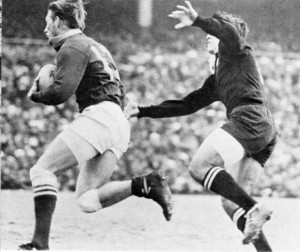 Bennie Osler (below) was an autocratic genius who totally dominated South African rugby between 1925 and 1936. The All Blacks feared him and he led the Springboks on their unbeaten Grand Slam tour through  the UK in 1931/32.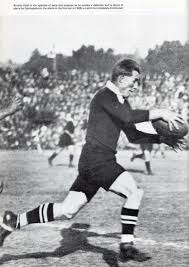 Joost was a top-notch korfbal player…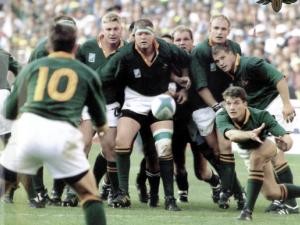 Stellenbosch did not want the world's best flyhalf. Read about this quirky turn of events in Springbok Rugby Quiz.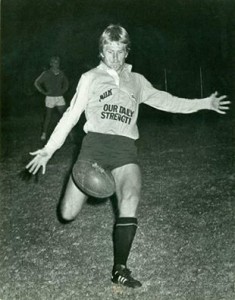 Naas Botha and Jannie De Beer weren't the only Boks who could drop. Ever heard of Gerhard Morkel? Read about his feats in Springbok Rugby Quiz.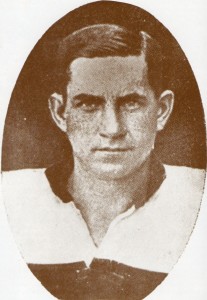 A famous Springbok captain was also an outstanding cricketer. Here All Black Grant Batty (below) learns the hard way not to tangle with  this giant Bok.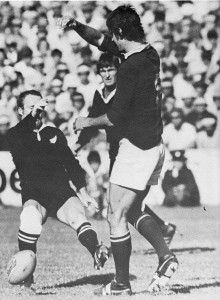 Kerneels Cronje was also a Springbok athlete…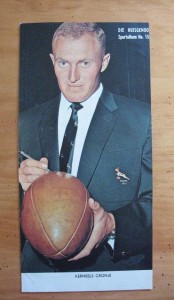 Gerald Bosch was called Meneer Drop  by the press.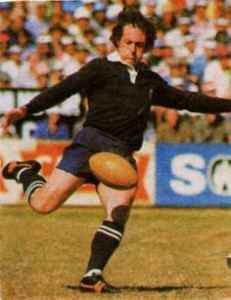 Mark Andrews was the first Springbok to play in 50 tests. He comes from Elliot and is fluent in Xhosa.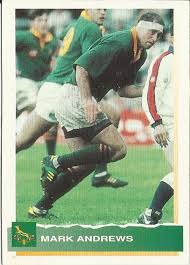 Syd Nomis played 25 consecutive  tests  for South Africa. He also sacrificed two front teeth for his country, courtesy of All Black fullback Fergie McCormick.
He could drop, place and score..and tackle, as Chris Laidlaw found out. Frik du  Preez was South Africa's Player of the Century.