MY PERSONAL QUEST FOR THE SOUL OF THE SPRINGBOK
In 1965 we as a family were having a meal in the Gordonia Hotel in Upington. Sitting on his own, there was an unknown man at his table. "Go and ask that Oom his signature" my father encouraged me. Clutching my father's Rembrandt van Rhijn's cigarette box in my small hand, I bravely approached the other guest. Minutes later I proudly returned, with his signature   on the back of the cigarette box.  Sias Swart's (Footnote 1) was the first Springbok autograph I had ever obtained. I have since collected a few more.  I discovered I somehow had a penchant not only for the stories, but for the statistics as well. As a boy, I began to challenge anybody, sometime complete strangers, to ask me anything about rugby. I always knew all the answers. Players, matches, scores, tries…And to this day I have never stopped reading rugby books or stopped following the matches. This book is the natural progressions of my love for the Game.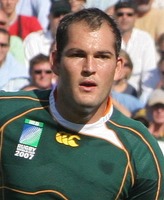 Fourie du Preez has just become South Africa's 56th Springbok captain. Dateline 7 October 2015 – RWC. 
My late father installed in me a passion for the game. He regaled me with the old stories of Paul Roos, the Windhond, Bennie Osler, Boy and Fanie Louw, the immortal Frik du Preez and the titanic battles against the All Blacks. In the days before TV, we were glued to the radio or the "draadloos", to listen to the tests, sometimes in the early hours of the morning when Dawie de Villiers' team were touring New Zealand.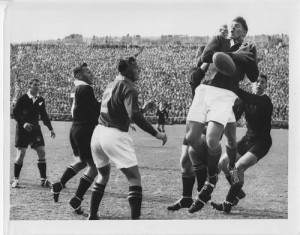 Then, I received a priceless gift for my 11th birthday: "Springbok Annals: International Rugby Tours to and From South Africa:  1891-1964" by DH Craven immediately became my guiding star and the book by which I lived. To crown it all, Doctor Craven honoured me by writing to me while I was based in Windhoek. I still have this precious correspondence.
Certainly, I had too many shortcomings to ever make an impact in the ruthless world of rugby. I was too small for a forward and too slow for a back. On top of these shortcomings, I was myopic.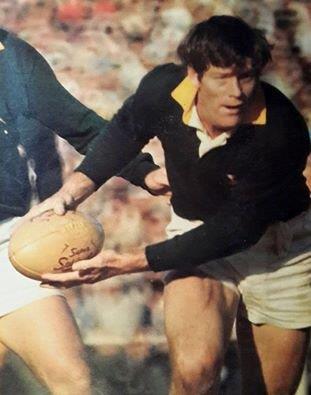 But I had dreamt of a green jersey for as long as I could remember. Laerskool op die Voorpos in Upington had jerseys reminiscent of those of the national rugby team. Was it a coincidence that both jerseys were Green and Gold? The only difference was that the wrists of the Voorpos jersey had gold trimmings as well. Nobody could have been prouder than me when I did wear that splendid jersey against Keimoes, in 1966.
Fast forward to 1973 and I am playing under 20 rugby at Kovsies with a rampaging Theuns Stofberg at lock, the immovable George Sabagha at prop and the flying Edrich Kranz on the wing.
Go back one year, to 1972, and you would have found me playing international rugby. International rugby? Yes, you have read right. International rugby. I, the bearer if French names, represented my ship, the SAS President Kruger against the visiting French naval vessel, Le Loraine's team at a match played at Goodwood in Cape Town.  Is it any surprise that I am the greatest Les Bleus fan outside of France? (Footnote 2)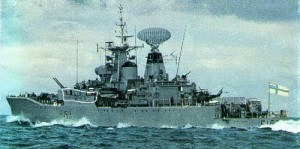 The author represented the flagship  of the South African navy against the might of France.
Like most South Africans, I had my sporting heroes, like the Springboks were. Sometimes life throws you a chance.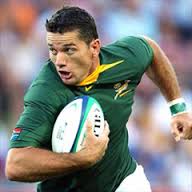 The South African Airways Boeing was parked on the on Jan Smuts Airport tarmac ready take-off on a domestic flight to Bloemfontein.  Thursday 12 June 1980. It was mid-winter on the Highveld. I had checked in early. The plane was filling up steadily. Suddenly I looked up. Two big men in green blazers embroidered with gold just boarded. Transvaal's Kevin de Klerk and Richard Prentis filled the seat behind me. The plane was fast filling up. Then, suddenly, a hush among the passengers. South Africa's trump card in the test series again the touring Lions has just entered the plane.  Naas Botha was approaching me. The next moment one of the greatest rugby geniuses of all time was seated next to me. He was chewing a piece of bubble gum that he put into the ashtray between us. We took of. I took a deep breath. "Ready for Saterday, Naas?" I gently prodded. The flyhalf was indeed ready. Sheer class is al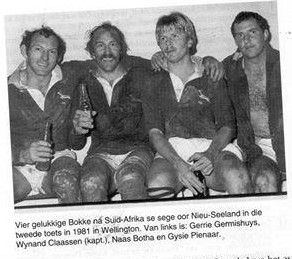 ways ready, whereas form is temporary. "Do you always were a gum guard?" I ventured.  "Yes, the gum guard always goes in first in my kitbag", said the blonde wunderkind. Then took a momentous step. Working for a publishing company, Via Afrika, I had with me a collection of Afrikaans poems put together in a book called "Poësie vir Plesier".  Feeling the weight of this enormous responsibility bearing down upon me, I asked Botha if he liked Afrikaans poetry. "Yes, I do as matter of fact", the great man replied. And then I did it. On behalf of the entire South Africa, I handed Botha my copy of "Poësie vir Plesier." In it I wrote a message "on behalf of all the people of South Africa, wishing him good luck for Saturday's test." The test was played on 14 June. South Africa won. I will probably never be revealed to what extent, if any, my Afrikaans poetry book inspired our Golden Boy.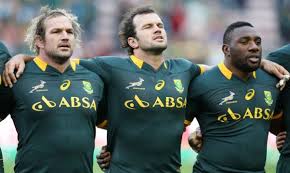 I started my working life as a TV journalist for SABC. 1979 was a watershed year for South African sport in general and rugby in particular. The Barbarians rugby team was departing from Jan Smuts Airport just after the Currie Cup final at Newlands featuring Western Province and Northern Transvaal, which ended in a 15-a1l draw.  I arrived at the departure hall to find the players saying goodbye to their loved ones and well-wishers.  Rob Louw, Western Province flanker was in good spirits. "Ons het 'n halwe beker gewen", (literally, "We won half a cup") quipped the jovial Louw. Among the milling throng of passengers, well-wishers and officials, I picked out picked out the engaging and charismatic Chick Henderson, manager of this pioneering team. In the interview, Henderson, a former Scottish international and Transvaal no 8, proudly told the author that his was the first fully representative South African rugby team in history to have in its ranks players from all South Africa's population groups. (Footnote 3).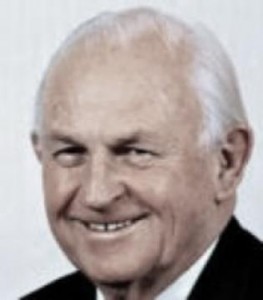 I had the privilege of interviewing the engaging  and charismatic Chick Henderson just before the Barbarians departed on their historic tour of Britain just after the Currie Cup final in 1979. Henderson, who played eight man for Scotland and Transvaal, managed the team. Several BaaBaas, such as Rob Louw, Divan Serfontein, Div Visser, Martiens le Roux and Errol Tobias later attained full Springbok colours.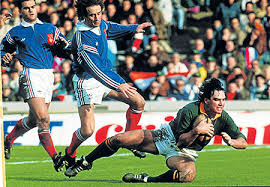 This groundbreaking tour opened the door for the 1980 British Lions (they were subsequently called British and Irish Lions) to tour South Africa. (Footnote 4) Springbok captain Morné du Plessis went on record to thank the team for withstanding the political pressure "to allow us to wear our beloved green-and-gold again."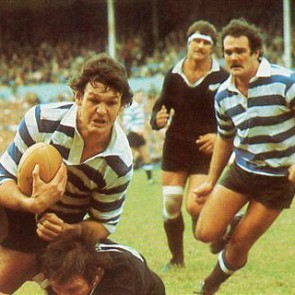 Morné du Plessis, here in action for Western Province against  New Zealand in 1976. Within one week – on two successive Saturdays to be exact – he led the "Streeptruie" and the Springboks to victories over the Al Blacks, captained by Andy Leslie. 
In journalism one could sometimes become a small part of history. And certainly few men or women played a greater role on South Africa's history than Nelson Mandela, who became president in 1994 after President FW de Klerk (Footnote 5) released him and un-banned the African National Congress in February 1990.
But there were those out to abuse sport for their own selfish and dubious political gains in the new South Africa.  I decided to do something to save the endangered Springbok emblem.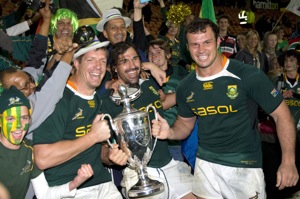 The way I saw it, the Springbok was for everybody.  Every player had always wanted to be called Springboks at some point in our collective history. The first coloured national team used the Springbok as its emblem in 1939 and the first black national team used it in 1950.
Now, in the winter of 1995, I was gunning my light blue Citi-Golf to the Union Buildings, which housed the President's office. I was in a race against time. I found parking some distance from the Union Buildings and jogged up the imposing façade Arrived at reception, I presented the secretary with an A-4 size, brown civil service-type envelope bearing the standard lettering Amptelik/Official.
At the time I was based in the South African Department of Water Affairs' headquarters in the Residensie Building in Schoeman Street, Pretoria, officially on the payroll of the Trans-Caledon Tunnel authority and seconded to the Joint Permanent Technical Commission, a bi-mutual body overseeing the construction of the Lesotho Higlands Water Project.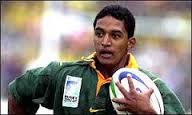 I drafted a letter, appealing to Mandela not to allow the Springbok emblem to become a political plaything in the hands of those who cared nothing for sport. I briefly outlined South Africa's rich and colourful rugby history, highlighting that it was under the Springbok emblem that our national team dominated world rugby for decades, that this emblem was synonymous with the country's rugby supremacy and how our opponents feared and respected this emblem. I then pointed out to Mandela that thousands of black people made a living out of selling Springbok selling Springbok memorabilia such as ties, badges, cushions, flags, posters and such like. Finally, I stressed that by embracing the Springbok emblem, he would get the support of the white population and forge the entire South Africa into one unified nation. This was, en bref, the contents of the letter I dropped off at the Union Buildings.
I had scribbled on this government envelope the words URGENT – PLEASE HAND DELIVER.  "This is for Mr Mandela. It is extremely important", I said as I arrived at the President's reception. "Yes, I'll make sure the President gets this", came the re-assuring reply.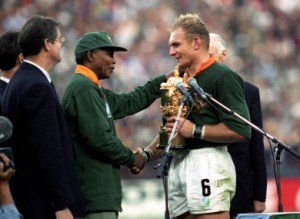 I cannot claim that my letter had any effect on Mr Mandela's subsequent announcement, or even that it affected his way of thinking. What is factual is that shortly afterwards, in an act of great statesmanship, the President announced on TV that the Springbok emblem will remain in use for rugby. Clint Eastwood depicts in a dramatic scene in his gripping movie Invictus how Mandela arrives uninvited at a meeting of the ANC National Executive where some radicals were hell-bent to get rid of this hated antelope, and nipped any further efforts to eliminate the emblem in the bud.  It is a matter of historical record that Mandela defeated Mluleki George's and  Makhenkesi Arnold Stofile efforts to "kill" the 'Bok.
When I returned from France to write this book, we bought a small house near the southern tip of Africa.  There, I made an astonishing discovery.  The hut next to the house had old South African Railways windows. The Springbok emblem emblazed on those windows seemed to jump out at me when I moved in. I don't believe this to be a coincidence. I believe this to be a serendipitous, a pointer.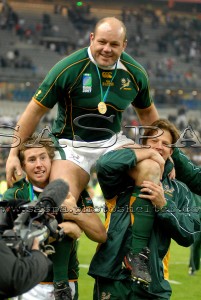 I dedicate this book to every single player who wore the Green-and Gold,  particularly to Doctor Danie Craven. It is my wish that the book will engender the love of rugby among our country's youth.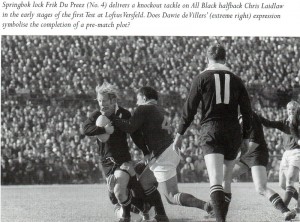 Footnote 1: Born in Otjiwarongo, Josias Johannes Nicolaas "Sias" Swart became South West Africa's first Springbok. He played on the left wing in the first test against the 1955 Lions.
Footnote 2: Le Loraine was one of no less than six French fighting ships that touched in Simonstown during 1972. The others were Le Brestois, Le Bourguignon, Le Provencal, La Combattante and Le Picard.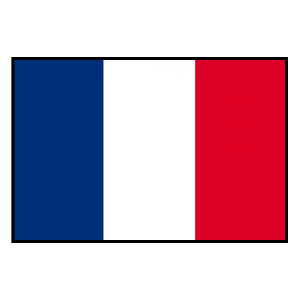 Footnote 3: John Hamilton "Chick" Henderson was born in Johannesburg and studied at Michaelhouse, the University of the Witwatersrand (Wits) and Oxford University. He played 9 tests for Scotland and was a founder member of the Quaggas Rugby Club and life member of the South African Barbarians.  Seventeen out of Henderson's 24 Barbarians represented either provincial or invitational sides that played against the touring Lions the following year, 1980. Seven members of the touring party went on to gain full Springbok status: Martiens le Roux, Ewoud Malan, Rob Louw, Divan Serfontein, Errol Tobias, Hennie Bekker and De Villiers Visser.
Footnote 4: Speaking before the match against the South African Barbarians on 3 October 1979, Devon skipper John Lockyer said "We're being criticised for playing against the South Africans, yet nobody seems to condemn the staging of the Olympic Games in a repressive country like Russia." Earlier, he stressed that because the South African side was a multi-racial team he saw it is a breakthrough for South African sport.
Footnote 5: The author of Springbok Rugby Quiz was the journalist who interviewed De Klerk for his first TV appearance in October 1977. Whites supported De Klerk's reforms not only to end discrimination, but also because it would end the sporting isolation and they could see their own Springboks in action again.