Joost passes to Stransky…
             Charging Bok…

           Barging Boks…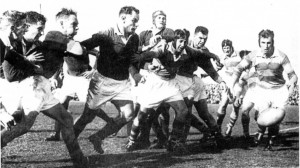 102-0 !
The Springboks once rattled up a score of 102-0  against Western Australia B. The match, played on 10 June 1965, did not enjoy official first class status. It was a curtain raiser for the match Western Australia A against the Boks. The men in green won that match 60-0.
           No fear…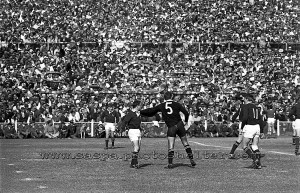 Diminutive  Mannetjies Roux takes on giant All Black lock Colin Meads. Meads selects Roux in his team of best players he encountered during his long career.
Lucky or unlucky….?
In 1965  Faan Conradie, Eastern province flyhalf was sent to the UK as a stand-in for the injured Jannie Barnard. However, Barnard recovered and Conradie never got to wear the green-and-gold. The South African Rugby Board decided to give Conradie Springbok status.
              Flying Springbok…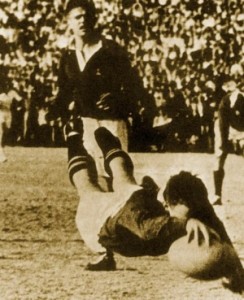 This is Mannetjies…he was a fighter pilot…!
          And here's another…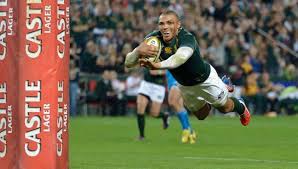 You can't really argue with 60 plus test tries, that  includes  15 World Cup tries before the 2015 Quarter Final  against Wales on 17 October 2015, can you?
                                     Two of the greatest.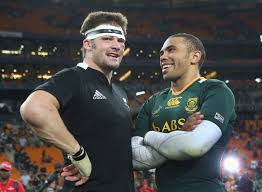 Fast Bok…
World class Springbok hurdler Gert Potgieter could have easily become a rugby Springbok, those in the know said. Potgieter played center for Northen Transvaal in 1956/7  but a car accident put paid to his athletic – and rugby – career. Potgieter broke world record for the 400 metre hurdles  at the age of 20 years and 4 days.
           Vat hom…!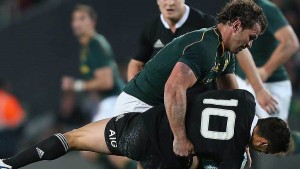 Late tackle? Pull the other one…!
They were there, but….
Raymond Rhule, Free Sate Cheetahs wing, went on a Springbok tour in 2012 but did not play in a match. In 2003 Western Province and Stormers wing Gus Theron was chosen for the Boks but due to injury he could never wear the coveted  green jumper. Fate  played the same trick on Leon Barnard in 1933 when the Wallabies played the Boks.
           Brave Bok..
Below is the immortal Joost in action against the Wallabies.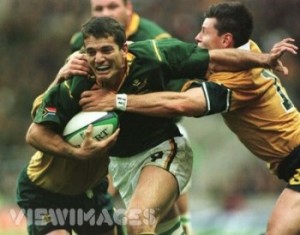 Bald Boks
There were at least two "bald" Boks. One was Basie van Wyk, a superb flanker, and then Des van Jaarsveldt, who became Springbok captain, from Rhodesia, nogal.  Van Jaarsveldt's nickname was "The Bald Eagle"
Blonde Boks…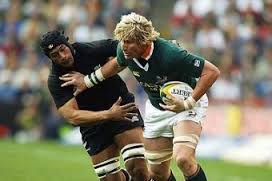 Bloodied Bok…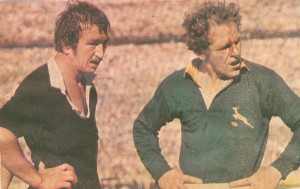 Bloody hookers…!
           Bouncing Bok…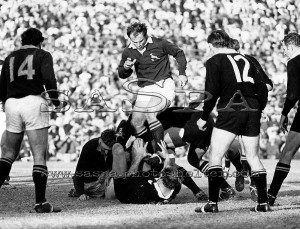 Music Boks….
The two biggest Bok crooners on the 2015 RWC are Schalk Burger and Adriaan Strauss. They can play the guitar to make Bob Dylan's mouth water. Another guitarist was Attie Baard.  Giant lock and World Cup winner Kobus Wiese  is astute on the piano. So was Jan Ellis. But the King is non other than the immortal Frik du Preez  himself. He could also play a bit…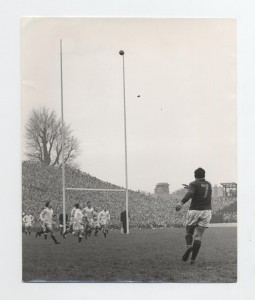 Here is Frik, in the no. 7 jersey – yes, he first played for the Boks at flank – landing a kick at goal. In 87 matches he scored exactly 87 points! Will we ever see his like again?
           Bosom Boks….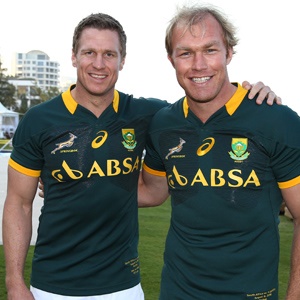 and Bok Bruisers….

A Wallaby  gets walloped on his home turf in 1971.
Jan Ellis and Peter Kirsten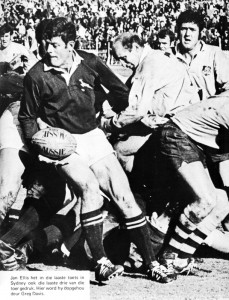 Jan Ellis was called "die Rooi Tier".
Jan Ellis made his debut as lock for South-West Africa, as a 20 year old against the 1962 British Lions.  He played 50 matches for this province, scoring no less than 32 tries. In addition, he converted 33 tries and kicked seven penalties, writes Capri Badenhorst in his book Rugby in SWA: 1916-1978. Ellis was born in Brakpan, but his parents moved to Gobabis in South-West Africa at an early age. Always superbly conditioned, Ellis played in the front row for his school's first team, and on the same Saterday afternoon he represented the town's senior team at fullback!
On a rugby blog posted by one "Pietman" on 6 February 2013, he ("Pietman") claims that Ellis, playing for Transvaal, busted Springbok cricket player Peter Kirsten's kneecap "with a deliberate kick" while the latter represented Western Province in a match played at Ellispark in "1974" (sic). In 1974 however, Ellis did not play for Transvaal but stil for South West Africa. Kirsten refuted this urban legend in May 2015, when he told the author that the story that Ellis injured him is a complete myth. "Nobody touched me. It was a freak injury. I don't know where that story comes from", he said. Ellis was selected for South Africa for his final test in 1976 – the first test of the series – when representing Transvaal. Nineteen-year old Kirsten played in a curtain raiser for the first test against the British Lions in 1974 and was then selected for the South African Quaggas against the same Lions. His team narrowly lost 20-16 to Willie John McBride's men, but Kirsten, who scored 12 points, performed so well that authoritative British scribe John Reason mentions him in his book The Unbeaten Lions. Subsequently, in what was his last match for Western Province, Kirsten so badly injured his knee in the match against Transvaal at Ellispark in 1974, that he decided to rather focus on cricket. He became a world great in this sport. To this day rugby purists say that had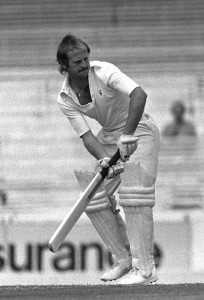 Kirsten not been injured, he would have rivalled or eclipsed even the great Naas Botha. Contrary to the statistic featuring on the internet, Kirsten, in his own words, played five, not three matches for 'Province. Former players the author interviewed did not hesitate to describe Ellis as a "vuilgat".  New Zealand writer Terry Mclean says Ellis punched All Black captain Andy Leslie in the match against Transvaal in 1976, breaking his jaw.
Bullocking Bok…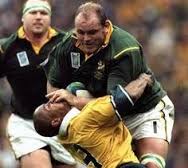 This is George Gregan getting a fistful of prime Bok ham…
Putting in the boot…Eina!
Tane Norton lashes out at Paul Bayvel (first picture) while Edrich Kranz (obscured) saves from Andy Leslie (also obscured) as All Blacks Kirkpatrick and Going (no 9 on the   deck) look on….(second picture). Boland Coetzee (no 6) is the Springbok on the ground and Ian  Robertson the Bok just to the left of the upright. Action from the first test in 1976.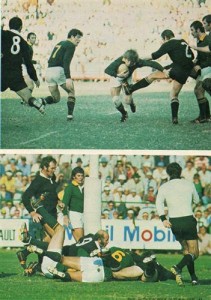 The one that got away…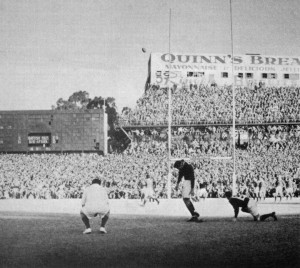 T
They could kick…
Zinzan Brooke and Phil Mostert are the only two forwards to land drops kicks in international test matches.
Power Bok…
           Big Bok…

This towering no 8 was 2 metres tall but played fullback for Grey College in Bloemfontein. Read more about this great all-rounder in Springbok Rugby Quiz.
           Groot en Klein….
           Versatile…

Gerrie Sonnekus (no 8 in the photo) became the first Bok since Danie Craven to represent South Africa  as a back and a forward. 
                   Hard…
                   
Johan Claassen was a tougie in the classic mould…
Bok'nBlack Brotherhood…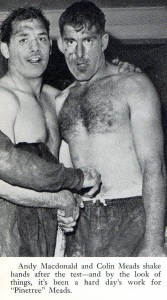 and happy Boks…